OUR FRONT OFFICE AND AESTHETIC TEAM
We consider our staff our family. Each team member is held at the highest professional level and consists of top knowledgeable individuals from the medical field. Every one of our staff members is dedicated to providing outstanding care at all times. Since most have been patients themselves, they know what it's like to have surgery and can relate well to our patients' needs.
OUR OPERATING ROOM TEAM
The Nikko operating team consists of highly trained nurses and surgical personnel to ensure our patient's safety and comfort. Most of Dr. Nikko's surgical team have worked with him for many years and have been involved in hundreds of surgical cases together.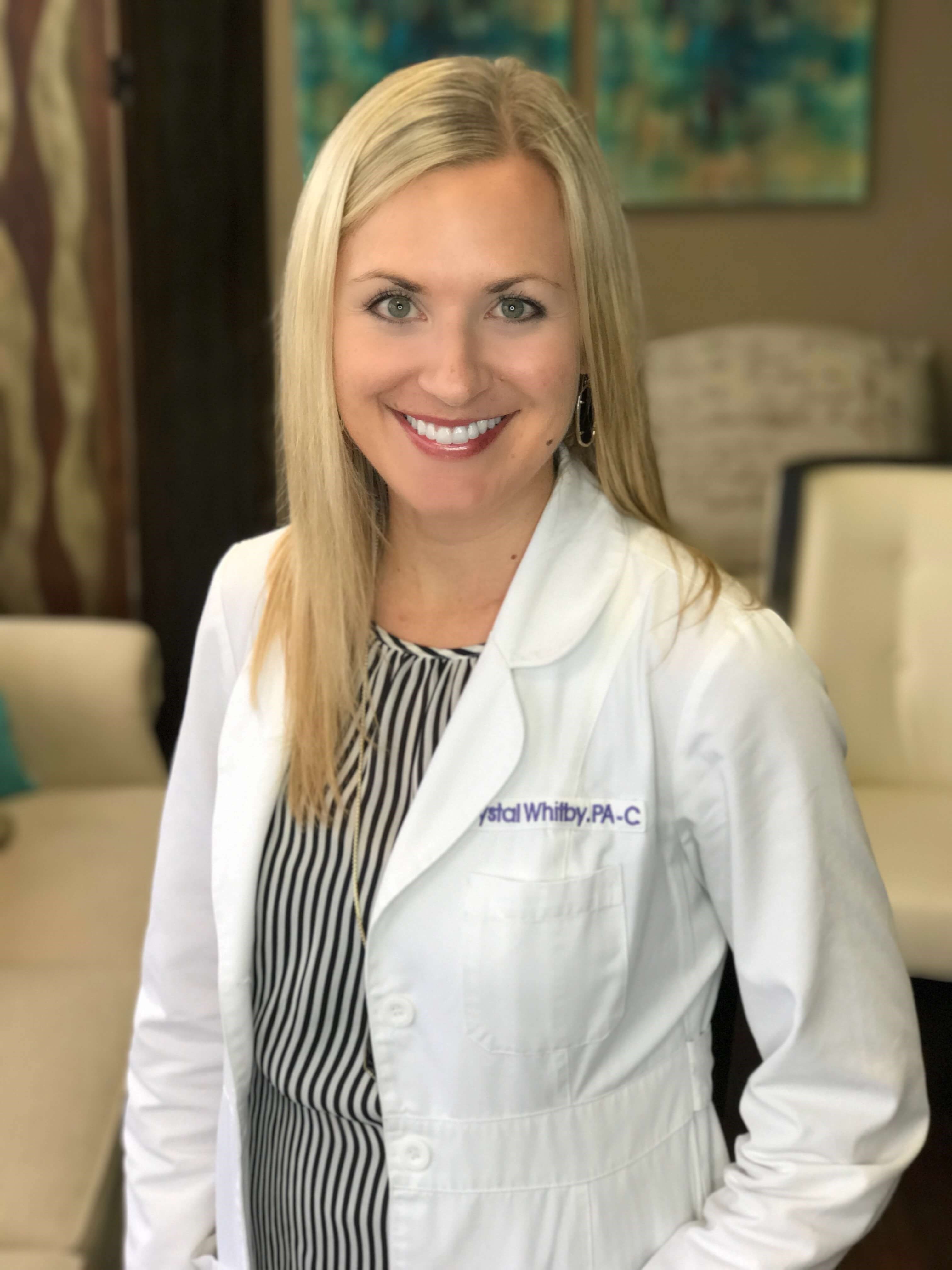 Crystal Whitby - Physician Assistant
Crystal Whitby, MPAS, PA-C is a nationally certified Physician Assistant who's practiced both medical and cosmetic dermatology for over 6 years with Dr.Nikko. Crystal grew up in Lake Jackson, Texas, a suburb just south of Houston. She graduated from The University of Texas at Austin with Honors in 2007 with a Bachelor of Science in Human Biology. She then went on to attend Baylor College of Medicine where she earned her Master's degree in Physician Assistant Studies in 2009. Crystal has received specialized training from Dr. Nikko and regularly pursues dermatology continuing medical education courses to provide the highest quality care for her patients. Crystal is certified by the National Commission on Certification of Physician Assistants and is licensed by the Texas State Board of Medical Examiners. She is a Fellow member of the American Academy of Physician Assistants and a Fellow member of the Society of Dermatology Physician Assistant.
---
Vannica - Registered Nurse
Vannica has been a registered nurse for four years and graduated from The University of Texas at Arlington with her BSN. She is currently working on her MSN to become a Nurse Practitioner. Her nursing specialty has been surgery and she obtained her certification in the operating room. Her role at the office is to provide information and get patients ready for their upcoming surgery. She is part of the operating team and along with the other nurses, assists Dr. Nikko in surgery. She ensures that patients are comfortable before and after their procedure. In her spare time, she loves to spend time with her son and loved ones, she likes to travel and trying out different cuisine.
---
Paisley Mitchell - Registered Nurse
Paisley is a registered nurse for the Nikko team. Although a mid-western native, having received her BSN from Purdue University in Indiana, she now calls Houston, "home." With over six years of experience in the nursing field, Paisley has worked in specialties that exemplify her strengths such as a supportive educator in women and children services, a compassionate caregiver in neonatal intensive care, and a dedicated patient advocate in both dermatology clinic and cosmetic surgery. Paisley understands the power of patient education and communication in the healthcare setting, and strives to provide this daily. Outside of the office, she can be found spending her time with her rescued pitbull, Howard, and sipping herbal tea next to a pool somewhere…with an ample amount of SPF of course!
---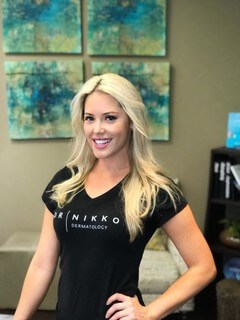 Stephanie Wilcox - Operations Manager & Patient Coordinator
Stephanie is the Operations Manager for both our Galleria and Cypress location. She is passionate about helping our patients achieve personal goals to look and feel their best. As a former News Reporter and Cosmetic Beauty Specialist from New York, she takes great pride in everything she does. Stephanie graduated from the State University of Albany New York and continues her education and knowledge within the skin care industry. With her friendly personality and excellent communication skills she assures to make any visit or consultation process both fun and educational. Dr. Nikko and Stephanie create customized treatment plans specifically designed for each patient. In her spare time, she enjoys traveling, trying new hot spots in Houston, and spending time with her family and friends.
---
Van Tran - Financial Manager
Van has been an essential attribute to Nikko Cosmetic Surgery Center and Dermatology since 2005. Her role as Supervisor is to ensure both offices run smoothly and efficiently. Her responsibilities range from meaningful service selection, scheduling appointments, and providing patients with assistance during preoperative preparations to postoperative care. Van is committed to improving the quality of care to all patients. With her mothering ways and gracious heart, she puts forth good intentions to all who enter the office. When she finds spare time she enjoys cooking, taking road trips, and spending time with her loving husband and two beautiful daughters.
---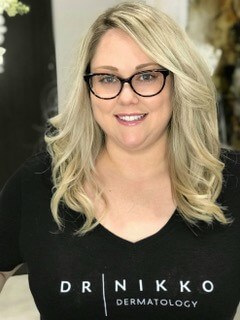 Rachel Tolar - Practice Manager - Cypress
Rachel Tolar is a graduate of Texas A&M University and a native Houstonian. She has over eight years of experience in management & public relations. Her role as Practice Manager is to ensure that the Cypress office offers a luxurious experience for all patients that come to Nikko Dermatology. Her responsibilities range from ensuring the best possible treatments and latest innovations to our patients, scheduling appointments, and providing patients with assistance to any of their needs before and after they walk through our doors. With her extensive background in cosmetic dermatology as well as marketing she is an essential asset to the Nikko team. In her spare time she enjoys traveling, spending time with her loving husband and two step-sons and is Mom to Cocolicious and Ollie.
---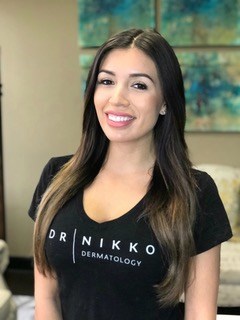 Tauvanne - Front Office Coordinator & Patient Coordinator
Tauvanne is our little Mexican spice, with her warm and reassuring smile she makes you feel overly comfortable from beginning to end of every visit. She has been part of the health care industry for over 10 years with a RMA background, you may count on her for all your patient care needs to your financial concerns. She loves to travel, spend time with her family and her heart beats for fashion down to every stitch.
---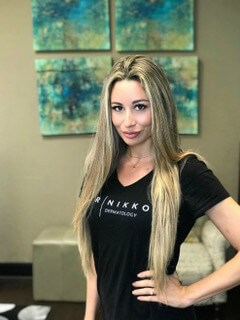 Nitsa - Front Office Coordinator & Marketing Specialist
Nitsa comes to us all the way from Greece! Raised to treat everyone she meets with the utmost respect and like family. She lives by the "Golden Rule," and has a great deal of passion for helping others achieve their ultimate goal. You feel her welcoming hospitality the minute you walk through our doors. Majoring in Public Relations and Marketing, minoring in Graphic Design, our office is thankful to have this little chameleon be a part of our team; from assisting our marketing director to making patients feel comfortable from beginning to end.
---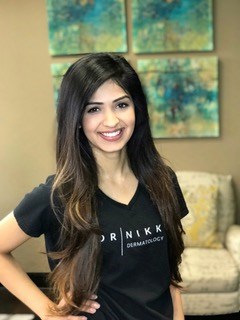 Tazeen - Front Office Coordinator & Patient Coordinator
Tazeen, our youngest addition to our team is a graduate from the University of Texas, Austin with a Bachelor's of Science in Public Health. Her pristine customer service ranges from Louis Vuitton to the ER halls of Memorial Hermann. She is the liaison between us and our patients, as a Patient Treatment Coordinator by developing long lasting relationships with everyone who walks through our doors. Her love for travelling, bubbly aura and genuine smile, gifts her with the ability to make anyone from anywhere feel welcome and at ease during their consultation.
---
Mark Jones - CRNA - Nurse Anesthetist
Mark A. Jones is our board certified Nurse Anesthetist, CRNA. Graduated from the University of Texas with his Bachelors Degree in Nursing in 1992. He served in the US Navy as a registered Nurse for over four years. He continued his studies back at UT and graduated with his MSNA in 2000. Mark practiced in Texas Woman Hospital for fourteen years, and has worked side by side with Dr. Nikko since 2006. Mark is known as an avid cyclist, motor cyclist and boater.
---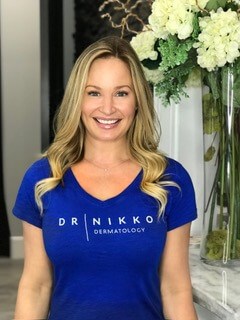 Michelle Nolen - Aesthetician
Michelle is our medical aesthetician and is a native Texan. She graduated from Santa Monica college, CA and received her esthetician license in 2007. With almost 15 years of experience in luxury and medical spas Michelle knows how to personalize treatments for each patients needs. For the past eight years she worked to hone her expertise and learn new and innovative procedures. She is passionate about skin care and helping to prevent and reverse all major key signs of aging. In her spare time she enjoys traveling, yoga, spending time with friends and family and being a rescue dog mom to Bailey Boo and Mama Dog.
---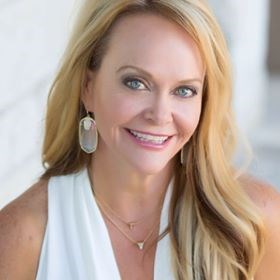 Stacy Knopp - Registered Nurse
As a veteran, Stacy's foundation in fitness and nutrition came at the hands of the U.S. Army's elite Military Police Corp. Her desire for public service lead to her transition into medicine. With a Bachelor's of Science in Nursing from Hawaii Pacific University, Stacy has over 20 years experience with a background in Trauma, OR, and Women's Services (high-risk OB). During my career, she has worked as a staff nurse, charge nurse, and in management. Stacy has served on numerous advisory boards, committees, and emergency response teams as well as achieved an advanced certification in Obstetrics (RNC). She continues to provide care at one of the Nation's Top 5 hospitals for Women's Services. Stacy is certified in cosmetic injectables, Eurothreads, body contouring, hormone replacement therapy, and feminine rejuvenation. Her goal is to maintain the highest standards in medical grade aesthetics while providing the best quality care and results to her patients. Her career is grounded in the belief that bringing the mind, body, and spirit together improves quality of life. Through improved health and wellness, Stacy wants to help patients achieve their goals. It also brings her great joy and satisfaction to bring patients inner beauty to the surface. Thank you for trusting me with your care. I consider it a privilege and an honor.
---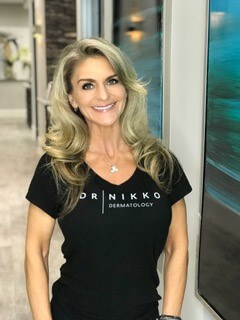 Michelle Kleb - Medical Assistant & Front Office Coordinator for Cypress & Galleria
Michelle is a proud Houstonian, born and raised. She has an athletic background including accomplishments in figure skating and women's figure competitions. Michelle has a huge heart for friends and family and looks forward to spending as much time laughing and loving them as possible. With a smile that reflects her southern heart, Michelle leaves anyone she meets knowing she cares. She has over 15 years of experience in the medical field and takes pride in making sure her patient's needs are met beyond their expectations. Michelle's solid work ethic, combined with a warm smile and a huge heart reflect how she shows up for the team and for the patients. Her love of family and friends and her desire to make sure patients feel cared for, made for an easy transition into Dr. Nikko's family as a dual role team member.
"When you have a passion for serving others well, you never 'work' a day in your life. I love what I do and want others to feel comfortable and cared for." ~ Michelle Kleb
---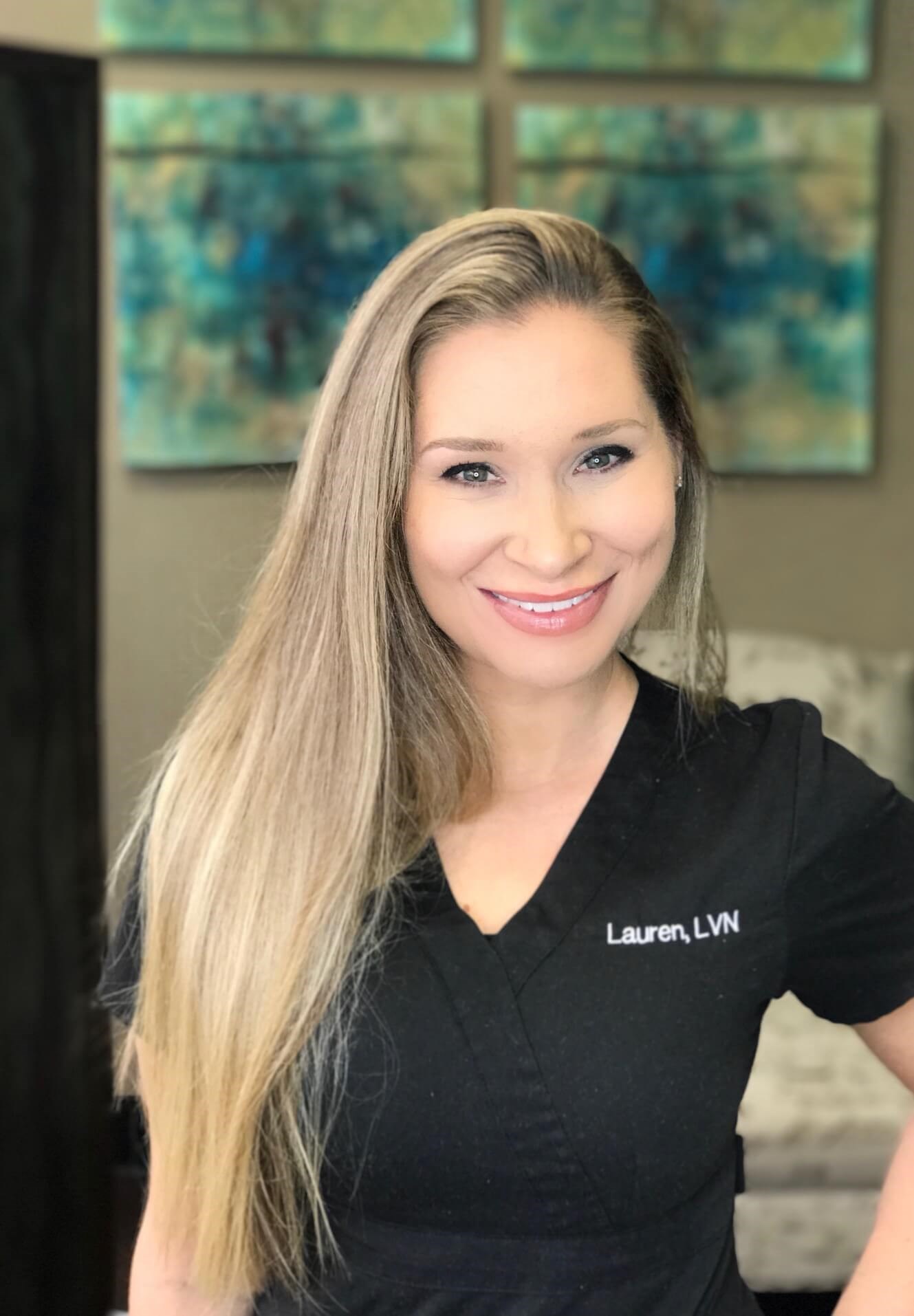 Lauren LeMoine - Licensed Vocational Nurse
Lauren is one of our Surgical Nurses who started her nursing career with Dr. Nikko in 2005 and is one of our certified injectors. Lauren's experience and knowledge in the medical field along with her witty sense of humor, makes her a key asset to the operating team! In her free time she loves to be outdoors, traveling and spending time with her son and family.
---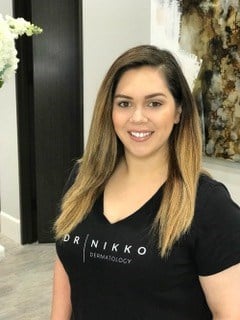 Nancy Rodriguez - Front Office Coordinator - Cypress
Nancy is a warm, friendly and motivated Front Desk Coordinator at Nikko Dermatology in our Cypress location. She is helping our office with scheduling new and existing patients, verifying insurance and making sure our office is kept organized. Nancy is a people person and loves to help others, her main priority is helping all of our patients with all of their needs. During her spare time, she loves to be around her family and her seven adorable seven dogs.
---